The AirPod is launched in 2016 and since then many tech companies tried to copy it. Original always have its own charm and charisma when compared to its imitators. AirPods are the first-ever wireless Earbuds introduced to the public. This incredible tech became very popular in just 2 years and sold out pretty quickly. You must be new to AirPod and wondering how to make AirPods louder. Well, this is exactly what we are going to be talking about today in this article. Some people like to hear music at a far higher volume than others. Sometimes when the background noise is too much, you are unable to hear clearly through AirPods. But no worries because we have the solution to get your Airpods to give away earsplitting sound.
How to Make AirPods Louder
You can always use the volume slider and volume button on your iPhone to increase the AirPods music volume. Make sure when you do that the AirPods are nearby. Each generation AirPod is different in a few ways and also has different controls. All AirPods have touch control except AirPods Max. So how to make AirPods louder? Well, AirPods Max has a digital crown, you can turn it to higher up the Sound. You can also ask Siri to do the same.
Now let's talk about the different ways you can play with AirPods sound settings:
1. Get Help From Siri to Change AirPod's Volume:
Siri is a virtual assistant on your iPhone that could help you increase the loudness of your AirPods. You just have to command Siri by saying: "Hey Siri, turn the volume up". Afterward, Siri will make your AirPods sound more powerful. Now you know how to make AirPods louder but how to activate Siri so that she could be available all the time?
Here are the steps to enable Siri so that she could listen to you at any moment:
Go to the settings on your iPhone and select "Siri & Search".
Enable the Listen for "Hey Siri" option.
Also, enable the "Allow Siri When Locked" option.
2. Change Sound Settings in the Music Apps
Your music app settings are not configured properly. This could be the case why your AirPods are not very loud. You can easily fix that in the music app settings.
Go to the settings then Tap on "Music"
Now see if the "EQ" is turned off, if not then turn it off with a single Tap.
When in the Music settings menu, make sure you have the Volume limit set to Off. if you find it On then Tap on the slider and move it all the way to the right.
3. Check the Sound Balance Between Both Ears of AirPods
If you experience one ear sounding louder than the other then that could be an issue. This may be the reason why you are hearing low-volume sounds on your iPhone. Here is how to do it:
Go to Settings and then select Accessibility.
Under the "Hearing" heading, you need to choose Audio/visual
Now you will see a slider under the Balance heading. Make sure that the slider button is in the middle and not way too right or left.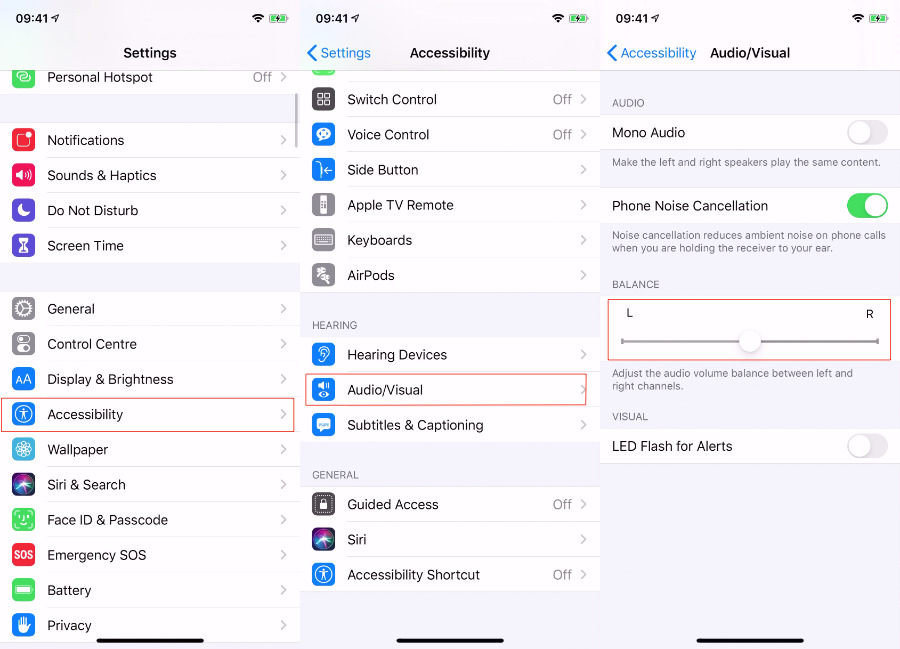 4. Update your IOS Version and AirPods Firmware
If you are still experiencing this issue and still have no idea how to make AirPods louder then you should update the software. An IOS software update and an Airpods firmware update usually resolve the issue in a few minutes.
Here are the following steps you can take to update your iPhone's software:
Open Settings, then select "General'.
Then tap on the "Software Update" option under About.
Now check for the latest version and tap on Download and install button
Now your IOS version is updated, as for the firmware version for your AirPods, they are updated automatically when in their charging case. So you do not have to worry about that.
Conclusion
We have discussed how to make AirPods louder. There are 4 different fixes we have mentioned in this article that you can try. From using Siri to configuring some settings to updating the IOS to the latest version. All these guidelines could get you what you desire for a good loud AirPod experience. In the end, if nothing works out, you can always clean out of AirPods. Thanks for Reading!